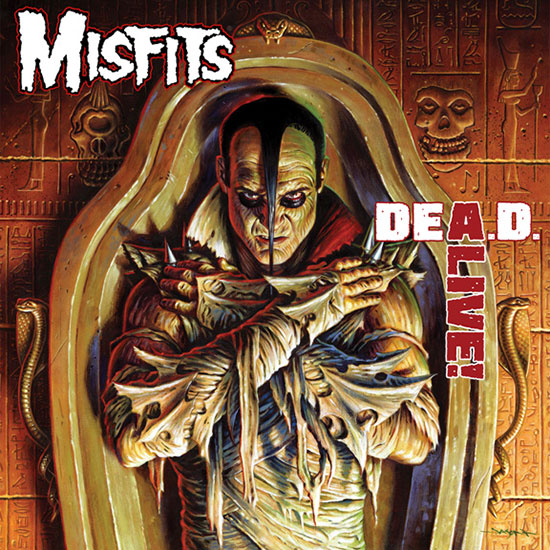 MISFITS
DEA.D. ALIVE!
Buy Now:
Official Store
|
iTunes
|
Amazon
CD (MRCD 01551)
Vinyl LP (MRLP 01550)
Digital Download
Track Listing
1.) The Devil's Rain (3:39)
2.) Vivid Red (1:44)
3.) Land of the Dead (2:00)
4.) Curse of the Mummy's Hand (3:18)
5.) Cold in Hell (1:54)
6.) Dark Shadows (3:18)
7.) Death Ray (4:02)
8.) Shining (2:39)
9.) American Psycho (1:56)
10.) Dig Up Her Bones (2:26)
11.) Scream! (2:22)
12.) Helena (3:24)
13.) Science Fiction/Double Feature (3:17)
14.) Saturday Night (4:10)
Original Release Date: February 5, 2013
14 Fiendish 'Fits Cuts Recorded Live!
The raw ferocity of the legendary Misfits captured DEA.D. ALIVE! in concert on All Hallows' Eve, in the center of Times Square—New York City! Need we say more Fiends? The 'Fits first proper live album since the 1980's is entombed in the ultimate greatest hits live package for the next generation of horror kids…A.D.
With select tracks from the band's encore set at their hometown show in NJ added for good measure, (recorded live on 'Devil's Night' no less), DEA.D. ALIVE! is an audio Molotov cocktail guaranteed to have bonfires burning bright with pumpkin faces, day or night, all year round. Speakers will virtually melt as a torrential downpour of "Devil's Rain" engulfs the senses, catapulting you front row center into a jam-packed house of horrors.
The diverse set of modern day Misfits classics included range from current hits like "Land of the Dead" and "Curse of the Mummy's Hand", on through all-new live versions of earlier-era material like "Scream!", "Dig Up Her Bones", "Helena" and more—recorded live, with a level of precision and intensity garnered in over three decades of horror business. In addition to 13 fiendish favs from the band's cryptic catalog, the live set also includes a cover version of the anthem "Science Fiction/Double Feature" (from the cult-classic "Rocky Horror Picture Show") performed by the Misfits for the first time ever on any release!
Available on CD and Ltd Ed 12-inch vinyl + MP3 Card
First vinyl pressing on SOLID GOLD vinyl Ltd to 1,500 pcs—SOLD OUT!
Misfits Records Online Exclusive Edition: GOLD VINYL W/ RED AND BLACK SPLATTER—ONLY 100 COPIES WORLDWIDE—SOLD OUT!