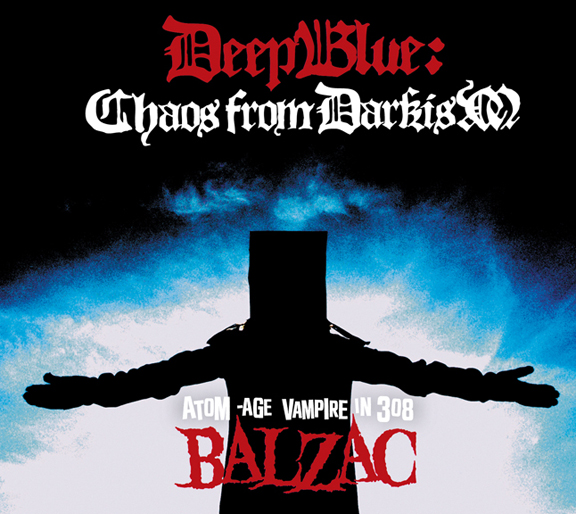 BALZAC
DEEP BLUE: CHAOS FROM DARKISM
Buy Now:
Official Store
|
iTunes
Ltd. Hardcover Book Collector's Edition CD/DVD (MRCD-01399)
Track Listing
CD:
1. Death and Confrontation
2. Godless
3. The Scare
4. In Those Days
5. D.A.R.K. (Deep Blue Version)
6. Horrorock
7. Ziggy Stardust
8. The Gaze
9. Rain
10. #1
11. Deep Blue
12. Japanese Chaos
13. XXXxxx
14. #2
15. Japanese Trash
16. I Can't Stand It Anymore
17. Alone
Exclusive CD Bonus Tracks:
18. D.A.R.K.
(demo Non Digital Ver.)
19. Came Out of the Grave
(Alternate Unreleased Ver.)
20. Gyakusatsu-No Mukou-Gawa
(Demo Ver.)
21. I Can't Stand It Anymore
(Demo Ver.)
22. Zetsubou-No Ano Basho-E
(Alternate Unreleased Ver.)

DVD:
Balzac Live at Liquid Room, April 3rd. 2005
Complete concert recorded live in Japan includes the songs:
Beyond Evil 308 Pt.1
D.A.R.K
Blood Inside'68
Into the Light of the 13 Dark Night
Gyakusatsu no Mukou Gawa
XXXxxx
Zennnounaru Musuu No Me Wa Shi Wo Yubi Sasu
Inside My Eyes
Came Out of the Grave
Yami-No-Hikari-e
Beyond Evil 308 Pt.2
Day the Earth Caught Fire
Art of Dying
The World without End
I can't Stand it Anymore
In Your Face
The Silence of Crows
The End of Century
Nowhere #13
Violent Paradise
The Grave-Dreizehn
The Human Blood
Monster I
No Resistance 1968
Unvarnished Facts
USA Tour Documentaries:
Fall 2005 USA Tour Documentary
USA Tour Documentary: Night the Fiendish Ghoul Came Out of the Grave (Redux Version)
Shocker promotional trailer
Rare Live Footage:
Gimme Some Truth (Osaka,2004)
XXXxxx (Yami Bandana Live,Tokyo 2004)
Promotional Music Videos:
In Those Days
D.A.R.K (Deep Blue Version)
Gyakusatsu no Mukou Gawa
Yami no Hikari e
Deep Blue
Original release date: July 31, 2007
"DEEP BLUE: CHAOS FROM DARKISM" is presented in an incredible limited collector's edition, perfect bound, red foil, hardcover book package not to be missed by collectors!
The 32-Page, jewelcase-sized HARDCOVER BOOK contains:
80 MIN. CD with 22-SONGS! Over an hour of music plus 20 min. of exclusive bonus tracks!
Bonus DVD features OVER 2-HOURS of material including a full Balzac concert, 2 US Tour Documentaries, 5 music videos, rare live footage and more!
Making this collectible release even more extraordinary, 1-in-10 of these gorgeous, hardcover book CD/DVD packages have been AUTOGRAPHED by all four members of Balzac & randomly inserted into the pressing!
This special collector's edition hardcover book was offered in a one time pressing then discontinued, followed by a jewel-case release with some content omitted.
Balzac's "Deep Blue" is also available via digital download at iTunes and digital music providers in the US & Canada.
Click Here to Check Out the Balzac: "Deep Blue" E-Card.
Preview 4 songs in their entirety and watch footage from the 2+ hour bonus DVD!