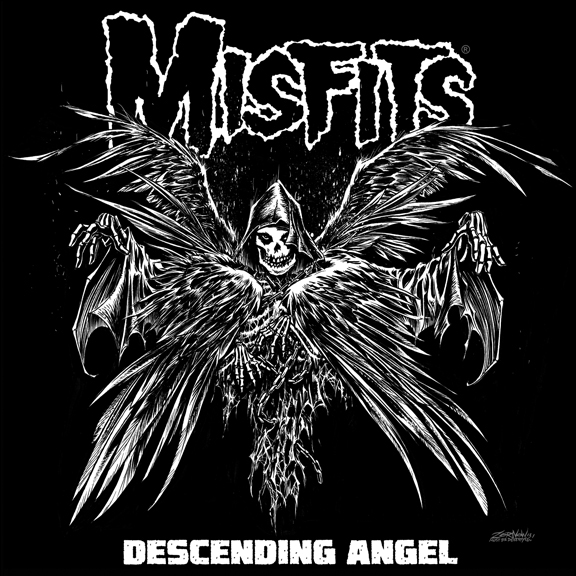 MISFITS
Descending Angel
Buy Now:
Official Store
|
iTunes
|
Amazon
12-Inch Vinyl (MRLP 01570)
Digital Download
Track Listing
1.) Descending Angel (4:19)
2.) Science Fiction/Double Feature (3:23)
Original Release Date:
Digital Single Released Worldwide: October 29, 2013
12-Inch Vinyl Released in Stores & Online Worldwide: November 12, 2013
The Misfits debut two all-new studio recordings for the first time anywhere on this special limited edition 12-inch maxi-single.
90's era Misfits 'fiend' fav "Descending Angel" has been re-recorded with a brand new 2013 treatment by the "Devil's Rain" lineup (Jerry Only, Dez Cadena and Eric "Chupacabra" Arce), specifically for this release! By popular demand, the flip side features a studio version of the 'fit's cover of 'Rocky Horror' anthem "Science Fiction/Double Feature", (in follow up to the live version that previously appeared on the band's full-length "DEA.D. ALIVE!" album – also available).
With wicked cover art by Jeff Zornow (Fright Rags, IDW's Godzilla comics & more), and an iconic back cover photo of Misfits founding member Jerry Only shot through the legendary lens of Mick Rock, this is a package no Misfits record collection will be complete without.
2013 EDITIONS:
Released worldwide November 12th, 2013 in stores and online on Solid Black 12-Inch vinyl —(2,000 pcs pressed).
MISFITS RECORDS ONLINE STORE EXCLUSIVE VINYL EDITIONS:
CLEAR VINYL W/ BLACK & WHITE SPLATTER—LIMITED TO 500 PCS (2013)
SOLID WHITE VINYL W/ BLACK SPLATTER—LIMITED TO 300 PCS (2013)
EXCLUSIVE FALL 2013 TOUR EDITION: CLEAR VINYL W/ BLACK & RED SPLATTER—LIMITED TO 500 PCS (2013)
2016 EDITION:
1,000 PCS pressed on Black Vinyl w/ White Splatter for release in stores and online (2016)