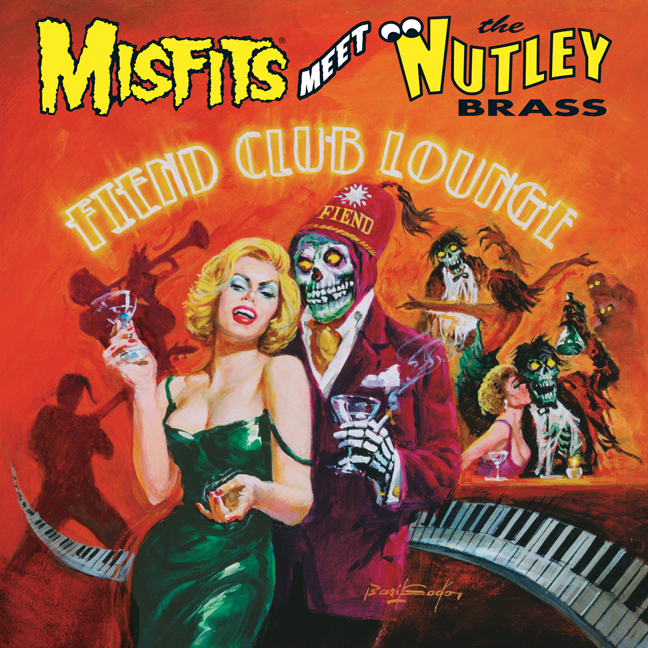 MISFITS MEET THE NUTLEY BRASS
Fiend Club Lounge (Expanded Edition)
Buy Now:
Official Store
|
iTunes
|
Amazon
CD (MRCD 01580)
Vinyl LP (MRLP 01581)
Digital Download
Track Listing
1.) Last Caress
2.) Astro Zombies
3.) Where Eagles Dare
4.) Some Kinda Hate
5.) Hybrid Moments
6.) Hatebreeders
7.) Teenagers from Mars
8.) Attitude
9.) Angelfuck
10.) Skulls
11.) Die, Die My Darling
Bonus Tracks:
12.) I Turned into a Martian
13.) Halloween
Original Release Date:
Expanded Edition CD: November 26, 2013
Expanded Edition Vinyl LP: December 17, 2013
Expanded Edition featuring All-New Bonus Tracks
A Lounge-Core Tribute to the Legendary Horror-Punks!
Yes, Fiends, the ultimate and most unusual of all Misfits tributes awaits when the Misfits meet The Nutley Brass in the Fiend Club Lounge! 13 classic era Misfits favorites have been interpreted in the form of highly well-executed, instrumental, retro-inspired "Space Age Pop" or "Lounge" style cover versions that will have horror-punks, lounge enthusiasts and fans of incredibly strange music going wild in the pit!
Includes extensive liner notes from the creators plus paintings by the legendary Basil Gogos!
"If Grandpa Munster had a band as a teenager it would have sounded like the Misfits Meet the Nutley Brass! Fun for monsters of all ages." – Jerry Only, MISFITS
"evil has never sounded so damn kitsch" – Kerrang!
"will bring joy & uncontrollable laughter… SO wrong, it's right" – Antimusic
"Genius"- Razorcake
Click Here for more detailed reviews of Misfits meet the Nutley Brass: "Fiend Club Lounge".
Available in Expanded CD Digipak and—for the first time ever on vinyl
Solid orange vinyl w/ MP3 download card (1,500 pressed) available in stores and online worldwide.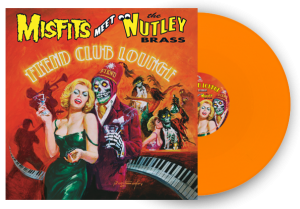 MISFITS RECORDS ONLINE STORE EXCLUSIVE COLORWAY: ORANGE vinyl with YELLOW transitional haze limited to 666 pcs worldwide—not available in stores—SOLD OUT