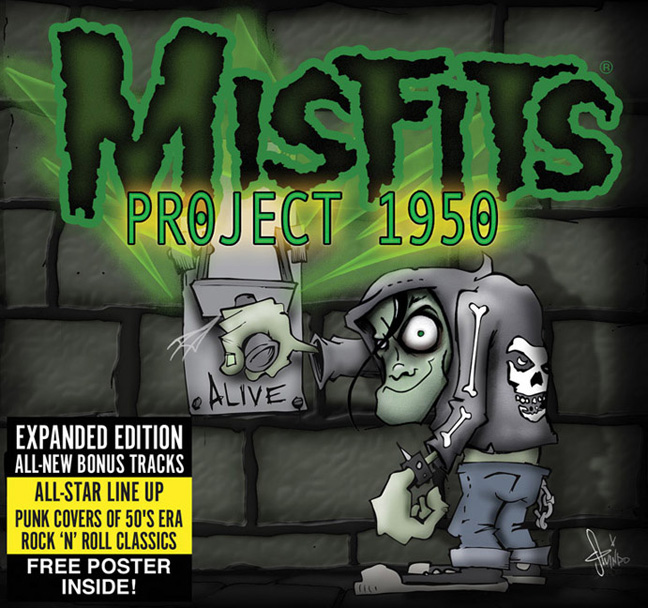 MISFITS
Project 1950 (Expanded Edition)
Buy Now:
Official Store
|
iTunes
|
Amazon
CD (MRCD 01600)
Vinyl LP (MRLP 01601)
Digital Download
Track Listing
1.) This Magic Moment
2.) Dream Lover
3.) Diana
4.) Donna
5.) Great Balls of Fire
6.) Latest Flame
7.) Monster Mash
8.) Only Make Believe
9.) Runaway
10.) You Belong to Me
BONUS TRACKS
11.) Witchcraft
12.) Daughter of Darkness
13.) (You're the) Devil in Disguise
Original Release Date: October 27, 2014
The Misfits special project showcasing punk covers of 1950's era rock 'n' roll classics assembles an all-star line-up to bring this creature to life! Misfits founding member Jerry Only frontlines the spiked jukebox on Bass and lead vocals for every track—along with Black Flag alum Dez Cadena utilizing an arsenal of guitars to achieve a dynamic that best suits each song, and much more…
60's pop-rock icon Ronnie Spector (known for timeless classics like "Be My Baby" and "Baby I love You") makes a special guest appearance lending her inimitable vocals to "This Magic Moment" and "You Belong to Me". The expertise of Jimmy Destri (Blondie) shines on keyboards for re-workings of "Runaway" & "Great Balls of Fire". Also featured is longtime Misfits & Ramones collaborator John Cafiero (Osaka Popstar) contributing melodic punk-pop backing vocals to "Dream Lover", "Monster Mash" and "Runaway". Ed Manion (of Bruce Springsteen's E Street band) who has performed with a wide variety of artists—including 50's icon Dion, provides saxophone for "Diana" and "Runaway". The gamut of 50's era music has been reinterpreted along with a couple of 60's era hits that were must haves for this theme driven collection.
Home – viagra soft online bestellen mxiql – doo6 cialis generika ab wann Viagra Soft 50 mg Wie lange vorher | sport-translations.com | Sport-Übersetzungen
Notably the highest charting release in the band's entire legacy, "Project 1950" is presented in an all-new expanded edition featuring three never-before released bonus tracks with Misfits drummer Eric "Chupacabra" Arce rounding out the lineup. All three songs ("Witchcraft", "Daughter of Darkness" & "Devil in Disguise") have an underlying horror-centric common thread, and are newly recorded exclusively for this release!
A monster lurking in the mind of Jerry Only for years is unleashed as Misfits Records presents "Project 1950".
The Expanded CD with all-new bonus tracks, newly expanded packaging art by Tony Squindo (Metallica), free poster, and extensive liner notes is in stores and online now.
Look for the LP edition with exclusive variant cover art by Tom Whalen (Mondo) in a retro-style jacket, pressed on Ltd Ed 180-gram fluorescent yellow colored vinyl—while supplies last. (Ltd to 3,600 copies)
MISFITS RECORDS ONLINE EXCLUSIVE EDITION: 180 GRAM FLUORESCENT YELLOW VINYL WITH GREEN SPLATTER
 LTD TO 300 PCS —SOLD OUT
TOUR EXCLUSIVE EDITION: 180 GRAM FLUORESCENT YELLOW VINYL WITH RED SPLATTER 
LTD TO 200 PCS —SOLD OUT