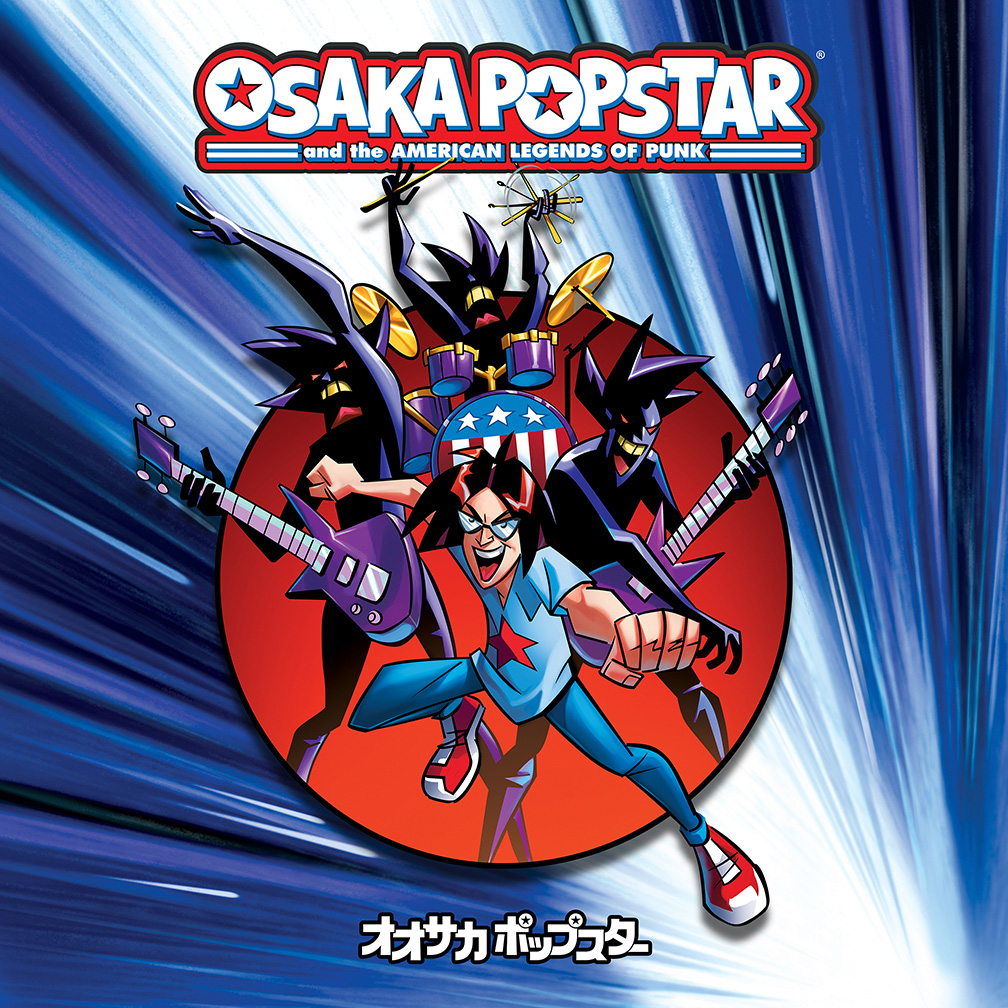 OSAKA POPSTAR
OSAKA POPSTAR AND THE AMERICAN LEGENDS OF PUNK (EXPANDED EDITION)
Buy Now:
Official Store
|
iTunes
|
Amazon
CD (MRCD 01670)
Vinyl LP (MRLP 01671)
Digital Download & Streaming Audio
Track Listing
1.) Wicked World
2.) Astro Boy
3.) Sailor Moon
4.) Man of Constant Sorrow
5.) Insects
6.) I Live Off You
7.) Xmas Intro (That Almost Wasn't)
8.) The Christmas that Almost Wasn't
9.) Love Comes in Spurts
10.) Blank Generation
11.) Monsters
12.) Where's the Cap'n? (Extra Crunchy Mix)
13.) Shaolin Monkeys
Bonus Tracks:
14.) Super Hero
15.) Beat on the Brat (Studio Version)
Release Date: February 4, 2022
All-new Expanded Edition of the anime-punk-rock mash-up debut album by Osaka Popstar!
Available for the first time on vinyl, "Osaka Popstar and the American Legends of Punk" has been fully remastered and pressed on limited edition 180-gram vinyl with enhanced front and back cover artwork, newly added bonus tracks, 20-page book with expanded art, essays, liner notes, and more. LP comes housed in Deluxe gatefold spot UV packaging with MP3 download card. Also available on CD in Deluxe spot UV Digipak w/ 20-PG Book.
Check out the new animated spot starring Osaka Popstar's 'Crunchy Crossbones' mascot voiced by Roger L. Jackson (best known as the voice of Mojo Jojo in "The Powerpuff Girls" & Ghostface from the "Scream" horror film franchise). Click Here to watch and confirm for yourself that Osaka Popstar Sounds Crunchy Even in Milk!
LTD ED 'ANIME SPEED-LINE SPLATTER' 180 GRAM COLORED VINYL EDITION
LTD ED BLUE 180 GRAM COLORED VINYL EDITION
CLASSIC BLACK 180 GRAM VINYL EDITION
Fronted and produced by longtime Misfits and Ramones collaborator John Cafiero, "Osaka Popstar and the American Legends of Punk" features a backing band of super luminary original punk rock super heroes, including Jerry Only (The Misfits), Marky Ramone (The Ramones), Dez Cadena (Black Flag), and Ivan Julian (Richard Hell & the Voidoids), plus a special guest appearance by indie music icon Daniel Johnston. They rip through a roller coaster of high-speed hooks and catchy choruses, recalling the very best of New York City punk rock.
If classic NY punk, anime, cult movies, comic books and toys formed a band on a sugar rush it would sound like Osaka Popstar.
"The Best 'Punk' Album in 25 Years. Osaka Popstar is a high concept project that bashes through generational barriers. They combine roots-punk style music a la the Buzzcocks, the Undertones, the Ramones, and the Misfits, and then incorporate this into Japanese Saturday morning cartoon imagery. It's sort of like the Archies on steroids, or the Fountains Of Wayne on amphetamines. Osaka Popstar have perfected a near-miraculous combination of fun and catharsis that leaves you breathless, exhausted, and completely satisfied." – American Hit Network
"You should be warned… The verses are catchier than many a groups' choruses, and the choruses are like three-chord crack. And similarly irresistible." – Classic Rock Magazine
"The existence of the Osaka Popstar's debut is further proof that God loves the Ramones. The album is a phenomenal ode to power pop and deeply infectious pop punk. Inspired heavily by Japanese Animation (check out the album art work and the two music videos)… it should be standard issue for every punk popper wannabe even dreaming about starting a band." – AMP (American Music Press-Monthly)