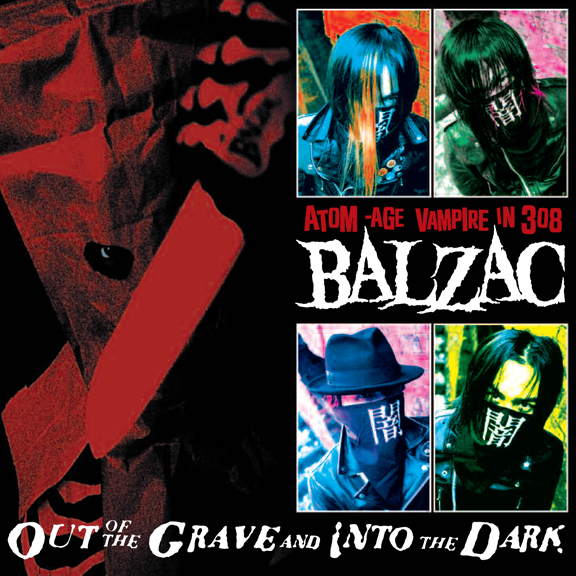 BALZAC
OUT OF THE GRAVE AND INTO THE DARK
Buy Now:
Official Store
|
iTunes
|
Amazon
CD/DVD (RCD 10816)
Digital Download
Track Listing
CD:
1. The Grave - Dreizen
2. Zetsubou-No-And-Basyo-E
3. Season Of The Dead
4. Inside My Eyes
5. Shi-Wo-Yubi-Sabu
6. The Pain Is All Around
7. Came Out Of The Grave
8. Beyond Evil 308 - (Part 1)
9. Art Of Dying
10. The World Without End, The Pain Is Not Around (Reprise)
11. I'm Losing You
12. Beware Of Darkness - (2004 Version)
13. I Know
14. Gimme Some Truth
15. Beyond Evil 308 - (Part 2)
16. D.A.R.K.
17. Blod Inside '68
18. Beyond Evil 308
19. Gyakusatsu-No-Mukougawa
20. XXXxxx
21. I Can't Stand It Anymore
22. Yami-No-Hikari-E
DVD Track Listing:
Music Videos:
1. D.A.R.K.
2. Inside My Eyes
3. Season Of The Dead
Horror Movie:
Marchen Aus Dem Horrorwald
Live Videos:
1. Zetsubo-No-Ano-Basho-E
2. The End Of Century
3. Violent Paradise
4. Monster1
5. Into The Light Of The 13 Dark Night
Bonus Audio:
1. Eerie Night
2. Taste Of Blood
3. Horrorwood
4. Inside My Eyes (unreleased version)
5. Season Of The Dead (single version)
Original Release Date: June 28, 2005 (from Misfits Records/Rykodisc)
Currently Out of Print
Japan's premier horror punks are back on Misfits Records. This time with a jam packed 80 minute CD!  Includes a limited edition 60 minute DVD with  music videos, live footage and a short horror film by Balzac.
Preview This Release Now
(Flash required)
---
ORIGINAL PRESS RELEASE:
JAPANESE HORROR PUNKS BALZAC RETURN WITH NEW RELEASE ON MISFITS RECORDS
NEW YORK – Japan's premiere horror punks Balzac return with their second North American release, "Out of the Grave and Into the Dark," via Misfits Records/Rykodisc.
"Out of the Grave and Into the Dark" is a double CD/DVD package combining two brand new full-length Balzac CDs, "Came Out of the Grave" and "Dark-ism," and one bonus track, for a total of 22 songs on the 80-minute CD.  The limited edition 60-minute bonus DVD features three music videos, five live performance videos, five bonus audio tracks, and a short horror film by Balzac.
"The dynamics of this double disc set from Balzac reinforces the fact that not even the grave can contain the power of this band!" said Misfits founding member Jerry Only.  "A rip-your-face-off record.  Melodic, yet monstrously abrasive."
Formed in 1992 in Osaka, Japan, Balzac quickly gained notoriety for their similarities to the legendary Misfits, both in musical style and image.  As time went on, Balzac grew into their own while still retaining the ghastly image made famous by their American counterparts.  "I am strongly influenced by the Misfits," said vocalist Hirosuke.  "It is quite natural to be influenced by a band you like, to digest it in your own way, and to turn it into something new."
"I think Balzac is the most cutting-edge new horror-punk band out there today," said Only.  "The fact that they come from the other side of the world just adds to their originality."
Balzac released several records and toured Japan nationally before hooking up with the Misfits as opening act on a Japanese tour, which would lead to Balzac's introduction to North America.  In the late 1990s, Misfits Records' John Cafiero first saw Balzac on a live video from Japan.  Impressed with the strength of the band's songs, performance, and musicianship, in 2002 Cafiero worked out a collaboration between the two bands on a split CD, "Day the Earth Caught Fire," on which the two bands covered each others' songs.  The split CD was the first Misfits Records release.  With the help of the Misfits, Balzac made it over to the U.S. for the first time for a Halloween performance in New York City that year.
The band's first full-length North American release came in the form of "Beyond the Darkness" in 2003, followed by a slot on the Fiend Fest Tour, which traveled nationwide throughout the United States and featured some of the top names in past and present punk rock.
The band's popularity and dedicated cult following in Japan prompted a limited production of 2,000 12-inch figures by Medicom Toy Company in 2000.  The previous year, the band started their own Balzac Fiendish Club, where members could obtain collectible merchandise, and the band also operates a store called Shocker in Osaka that acts a as a Balzac merchandise shop.