LTD ED. VINYL FOR RECORD STORE DAY OUT NOW
Two all-new songs from Juicehead's forthcoming, full-length breakthrough studio album "How to Sail a Sinking Ship" chum the waters on this Ltd Ed. vinyl 7-inch single with FREE Digital Download card. The power-punk trio hailing from Chicago combine a diverse range of musical styles & influences into their own blistering blend of punk rock.
The first pressing, a Record Store Day exclusive vinyl colorway, is available in a highly Limited Ed. of 500 pcs worldwide while supplies last. The record is perfectly suited to match the foreboding stormy skyline in the sleeve art, combining a color mix of gold and oil spill inflected deep ruby swirled vinyl.
Every 7-inch includes a free, collectible Juicehead digital download card redeemable anywhere in the world for MP3s of both new songs: "Rotting from the Inside" (Side A) and "Death of Democracy" (Side B).
The new single (and the upcoming full-length) is produced by longtime Misfits & Ramones collaborator John Cafiero. Producer/Osaka Popstar frontman Cafiero also appears on guest backing vocals for the A-side title track. The fierce and iconic 7-inch sleeve was illustrated by artist Joe King whose credits include designs for Crooks N Castles, Billabong & Obey Giant (among others) and was recommended for the project to John Cafiero by Obey's Shepard Fairey personally.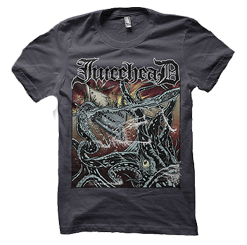 You can also pick up the new Juicehead T-shirt, featuring the 7-inch sleeve art in an alternate colorway designed specifically for the Tee, available now at the Misfits Records Online Store.
Music fans, be sure to support your local indie record shop and look for this ultra-limited, exclusive 7-inch in stores on Record Store Day, Saturday April 17th. A limited amount of copies are also available at the Misfits Records Online Store NOW while supplies last.

For those of you in the Chicago area, Juicehead, (Rob, Tom & Mike) will appear for an instore signing and FREE LIVE IN-STORE PERFORMANCE at Record Breakers 2109 South State Street, Chicago, IL on Saturday April 17th, to celebrate Record Store Day and the release of the new single! Stay tuned for full details on that coming soon…
Both new songs are also available for individual digital download at only 99 cents per track WORLDWIDE NOW at iTunes, Amazon and wherever digital music is sold.
DIGITAL DOWNLOAD OUT WORLDWIDE NOW AT iTUNES AND AMAZON
LTD ED. RECORD STORE DAY 7-INCH VINYL OUT NOW
Both tracks will appear on Juicehead's forthcoming, full-length studio album "How to Sail a Sinking Ship" coming later this year from Misfits Records.
Join Juicehead on MySpace, Facebook, iLike & countdown to the release at their official website Juiceheadmusic.com.