IN STORES & ONLINE NOW CLICK TO ORDER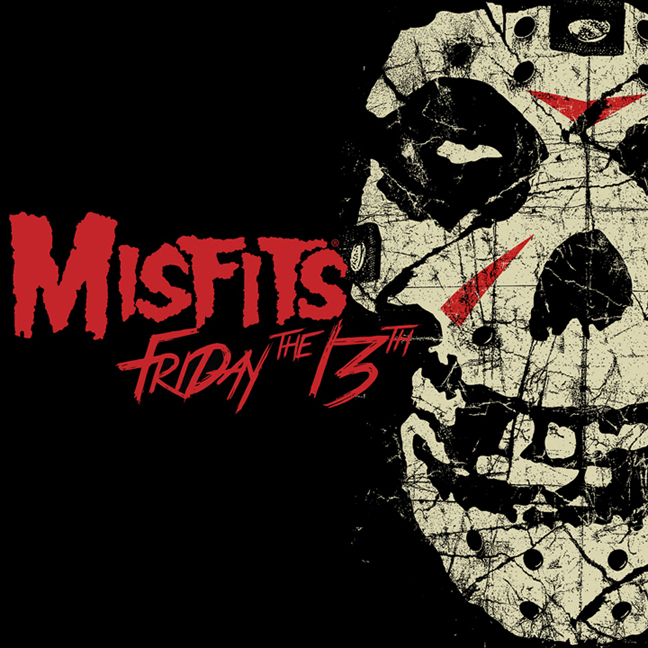 The latest EP from the legendary Misfits debuts 4 new horror-punk anthems for the new millennium, each written by founding fiend Jerry Only himself! An homage to 80's era slashers, classic Sci-fi and everything in between – pressed in your choice of CD digipak with 6-page booklet, or Limited Edition 12-inch color vinyl from Misfits Records. Features the line up of Jerry Only (Bass/Vocals), Jerry Other (Guitar) & Eric "Chupacabra" Arce (Drums), with fiendish new (yet to be revealed) 'Nightmare' induced Misfits art by horror and comic book illustrator Jeff Zornow (Godzilla, '68 & more). Also available from digital music providers worldwide.
For those who haven't seen it yet, the Fiends at Rue Morgue Magazine recently did an exclusive reveal of the new EP's "Nightmarish" back cover art! Click Here to check out the art at Rue Morgue.
Order at the CD or vinyl at the Misfits Records Online Shop and receive instant MP3 download of the title track "Friday the 13th".
Two themed Ltd Ed 12-inch vinyl color-ways are available, each limited to 1,500 pcs worldwide. One pays homage to the theme of the front cover ("F13": Bone vinyl with Red Blood Splatter), while the other pays homage to theme of the back cover ("Nightmare": Red and Green Sweater Stripe Transitional Haze). Both will be offered in stores and online worldwide starting July 8, in blind assortment with a 50/50 chance at finding one or the other inside.
For a limited time, Fiends ordering from Misfits Records Online have the option to pick the colorway they'd like to order – AND – get the vinyl several weeks before it arrives in stores! ORDER NOW exclusively in the Misfits Records Online Shop while supplies last!
Both are on-hand, in stock, and AVAILABLE NOW at the Misfits Records Online Shop
Track Listing
1.) Friday the 13th (4:49)
2.) Nightmare on Elm Street (2:53)
3.) Laser Eye (2:23)
4.) Mad Monster Party (1:29)
BEWARE… "Friday the 13th" is here Fiends!
New T-shirt also AVAILABLE NOW at the Misfits Records Online Shop