In celebration of the 40th Anniversary of the Misfits (note: the legendary punk band's first gig took place on April 18, 1977 at CBGB in NYC), the Rock and Roll Hall of Fame unveils the latest edition to its permanent collection of historic punk artifacts…
Misfits founding member Jerry Only's custom Devastator Bass and custom spiked leather vest—both designed by Only personally, and used at both of the Original Misfits Reunion Shows in 2016—now on display at the Rock and Roll Hall of Fame Museum in Cleveland!
Jerry's artifacts are specifically displayed in the Hall of Fame's Blank Generation: New York/London/Los Angeles case in their Cities and Sounds exhibit. This exhibit focuses on the music scenes in various cities (Detroit/Motown, Memphis/Sun Records, etc.). The Blank Generation covers the birth and enduring legacy of punk and new wave.
Meredith Rutledge-Borger, Curator at the Rock & Roll Hall of Fame says:
"The Misfits have long been a favorite here at the Rock Hall among both visitors and staff. We are thrilled to add these unbelievably kickass and iconic items to our permanent collection, and are so grateful to Misfits' founding member and bassist Jerry Only for his generosity in sharing the legacy of his genre-defining career. These artifacts will help us continue to engage, teach and inspire our visitors through the power of rock & roll."
Jerry Only speaks about the inclusion of his vest & bass in the Rock & Roll Hall of Fame:
"Fame was not my intent. It was always the creation of something so unique that others would remain in awe of its design. I am proud to walk among icons who felt the same way. We changed the world!!! I am honored to have my Excalibur…'The Devastator' and my 'Fiend Battle Armor' on display at the Rock and Roll Hall of Fame… May we one day grace its halls and exhibit a full arsenal of our weapons of mass destruction. Search -n- Destroy!"
This particular Misfits Devastator bass is very rare and unique for a variety of reasons. Not only was it used at both of the historic Original Misfits Reunion shows that took place at Riot Fest on September 4th 2016 in Denver, and September 18, 2016 in Chicago, but this particular Devastator also marks the first model ever made from authentic Louisville Slugger wood—as used in their world famous line of iconic baseball bats.
"I'm also very proud that this is the first Devastator bass made from Louisville Slugger wood, which is an American institution." says Jerry Only. "For every home run in major league baseball hit with a Louisville Slugger bat, I don't think any one ever hit a home run bigger than I did in Denver and Chicago with this bass. It may be the concert of the millennium. The reaction from our devoted fans, the fiends, was unparalleled and their blood lust is for more…"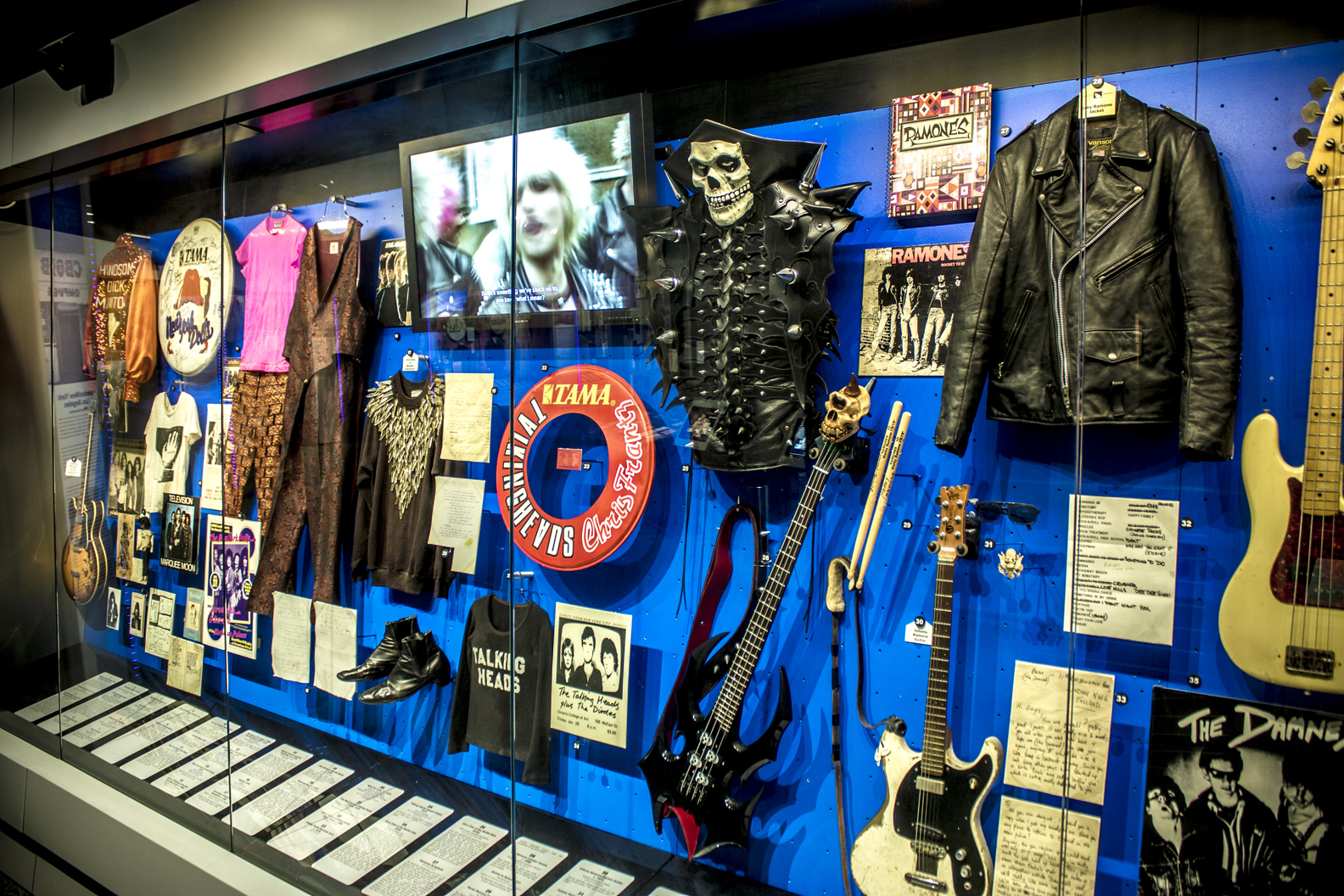 More info on the Hall of Fame display:
To the upper right of Jerry's Devastator Bass is Dee Dee Ramone's 1978 Fender Precision Bass, and to the lower right of Jerry's Devastator is Johnny Ramone's main guitar used from 1977-1996. Johnny himself wrote those dates on the back of the guitar upon retiring in 1996. The black leather jacket above Johnny's guitar is Joey Ramone's, circa 1988. To the left of Jerry's artifacts you can see a red Tama drumhead used by Chris Frantz of the Talking Heads, c. 1988, as well as the very first Talking Heads T-shirt, worn by Tina Weymouth in 1975. The Hall of Fame's collection also includes original paintings by Dee Dee Ramone on loan.
Visit the Rock & Roll Hall of Fame now to see all this and more for yourself—in-person!