JUICEHEAD & OSAKA POPSTAR TEAM TO COVER FUGAZI
7-INCH RELEASE IN STORES NOW, DIGITAL EP ONLINE NOW

CLICK HERE TO" BUY THE 7" NOW
All online orders Include instant download of the complete JH X OP 5-track "Waiting Room" Digital remix EP!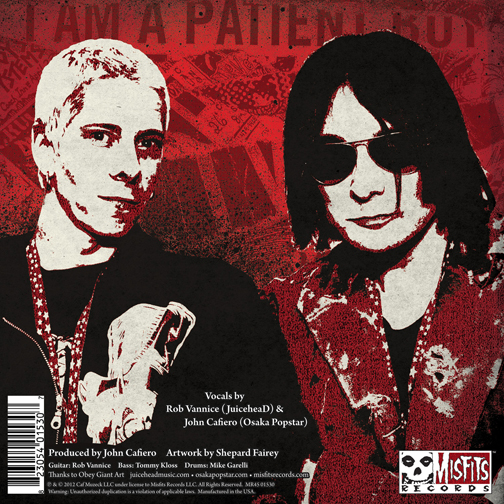 Exclusive premiere @ Rolling Stone!
Click the logo for more.




Two Misfits Records artists join forces performing together in a super-charged new school homage to the old school, as JuiceheaD & Osaka Popstar team to debut an all-new cover version of Fugazi's classic punk anthem "Waiting Room"! Produced by long-time Misfits and Ramones collaborator, John Cafiero (Osaka Popstar), who edited and contributed an afterword to the recently released Johnny Ramone autobiography ("Commando").
Features front and back sleeve art created specifically for this release by world-renowned visual artist Shepard Fairey (OBEY GIANT ART / Studio Number One), in a nod to his punk-rock inspired, graffiti-driven, street-art roots.


Click here for a closer view.
The special Ltd. Edition Record Store Day 7-inch pressing includes the dynamic new rendition of "Waiting Room" performed by JuiceheaD X Osaka Popstar on Side A, with an exclusive etched B-side showcasing the iconic Shepard Fairey sleeve art on black vinyl. 1-in-10 chance at a red etched vinyl variant. Includes free digital download card with MP3s of the new JH X OP "Waiting Room" single, plus an extended "Time Bomb Remix" of the track. Only 1,000 etched copies pressed worldwide. Available now at participating locations everywhere while supplies last.
The JuiceheaD x Osaka Popstar "Waiting Room" digital EP (featuring both the single, the "Time Bomb Remix" and 3 additional, alternate remixes of the track) is now available worldwide @ iTunes, Amazon and everywhere digital music is sold.
In a recent interview, John Cafiero told Rolling Stone: "I reached out to Dischord (Fugazi's label) about covering the song, and eventually had the pleasure of speaking to (Fugazi vocalist) Ian MacKaye personally about it. Conceptually, it was intimidating because talking to Ian MacKaye about covering "Waiting Room" is like walking on metaphorical hallowed ground. But he's truly someone that lives up to his ethos. On top of that, he couldn't be a more gracious guy. Like the music he creates, Ian MacKaye is a role model for integrity without pretension."



JUICEHEAD & OSAKA POPSTAR "WAITING ROOM" DEBUT IN TOP 20 @ ALTERNATIVE RADIO!
The new JuiceheaD X Osaka Popstar "Waiting Room" single has been surfacing on radio airwaves nationwide, and debuted on the alternative speciality charts in the top 20! FMQB reported the JuiceheaD X Osaka Popstar "Waiting Room" single entered the SubModern Singles chart at #19, with many other noteworthy artists charting just outside the Top 20 at #24. Click Here to check out the full chart from FMQB.

LTD. ED. 18" x 24" SIGNED & NUMBERED JH X OP SHEPARD FAIREY SCREEN PRINTS AVAILABLE NOW
The release also features an extremely Ltd edition of 400 hand numbered and signed 18" x 24" screen prints signed by Shepard Fairey (Obey Giant Art), John Cafiero (Osaka Popstar), Casey Rider (of Studio Number One), and Rob Vannice (of JuiceheaD).
These Exclusive Ltd. Ed 18" x 24" autographed screen prints are AVAILABLE NOW while limited supplies last in the Misfits Records Online Store and Osaka Popstar Online.
Printed with the same high quality standard stock and inks typically used by Obey Giant, the cream colored speckletone paper perfectly compliments the screen print, and is suitable for framing. Each Ltd Ed. screen print purchased through the Misfits Records and Osaka Popstar Online Stores includes free instant MP3 download of the JuiceheaD X Osaka Popstar "Waiting Room" Remix EP.
50 prints were specifically signed, numbered and made available exclusively to select record stores that competed to be among those to receive prints for use in their Record Store Day celebrations. The goal of the release—to reawaken the fun and experience of seeking out treasures from your local record store.

"Indie Record shops have always been a breeding ground of great music, art, culture and ideas, but they're becoming casualties of modern circumstance," Cafiero says of Record Store Day. "It's exciting and inspiring that artists and individuals are pulling together in recognition of that, and working to create a grass roots uprising in support of maintaining the existence of these small hubs that once were, and to many still are, sacred staples in our society.
To me, "Waiting Room" is truly a punk anthem, and indicative of the indie music movement in general." Cafiero elaborates. "I'm proud to have the chance to ignite a flame in its honor for Record Store Day. I don't think the song, the artwork created for this release, or the intention of everyone, and everything, surrounding this project for that matter, could be any more perfectly suited to the cause.
The artwork perfectly represents the spirit and sound of the record, not to mention it was rendered by a visual pioneer in his own rite, Shepard Fairey (Obey Giant Art/Studio Number One)—another icon of indie, DIY street ethics, and a success story to boot. There are so many different facets to this project. If I wasn't one of the creators behind the release, I'd have marked my calendar and readied to seek it out on Record Store Day. I encourage those who like what they hear to seek out more material from JuiceheaD, Osaka Popstar—and for the uninitiated—Fugazi of course.
Be sure to ask for them at your local record store…" – John Cafiero
Preview JuiceheaD X Osaka Popstar in streaming audio now at Rolling Stone.com.