OSAKA POPSTAR
CHRISTMAS IN THE LOONY BIN
Buy Now:
Official Store
|
iTunes
|
Amazon
Digital Single (MRDS 01660)
Ltd Ed Holiday Card
Track Listing
1.) Christmas in the Loony Bin (3:03)
Digital Single Released Worldwide: December 2, 2016
The latest by Osaka Popstar features frontman John Cafiero (Vocals), with Dean Rispler (The Dictators, Voluptuous Horror of Karen Black) on Guitar/Bass and Jon Wurster (Bob Mould, Superchunk, The Mountain Goats) on Drums.
Produced & Arranged by longtime Misfits & Ramones collaborator John Cafiero
Click the Image Below to check out the Animated Lyric Video for the new single.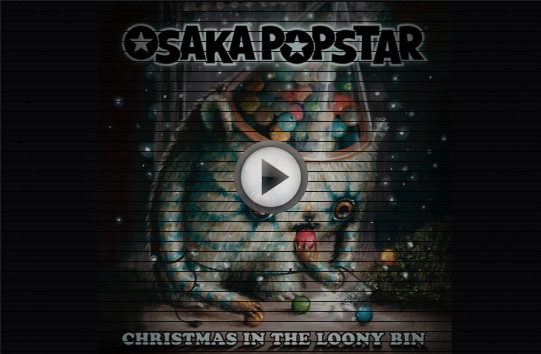 A traditional holiday card, featuring Osaka Popstar's "Loony Bin" cover art, painted by award winning artist Jason Limon, is also available in a signed and numbered limited edition of 500 pcs. The cards, personally signed by Osaka Popstar's John Cafiero, include a collectible, plastic download card for the new single inside. Look for them in the Misfits Records and Osaka Popstar online shops, or at select retailers, while supplies last.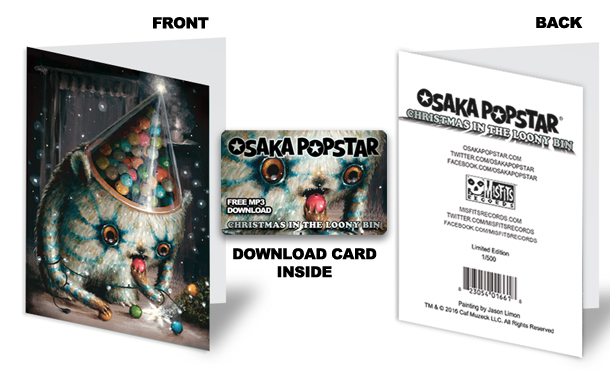 The Ltd Ed greeting cards measure 5.5″ tall x 4″ wide with blank interior so you can write your own message or holiday greeting to friends and family, or keep the limited edition piece mint for your collection!