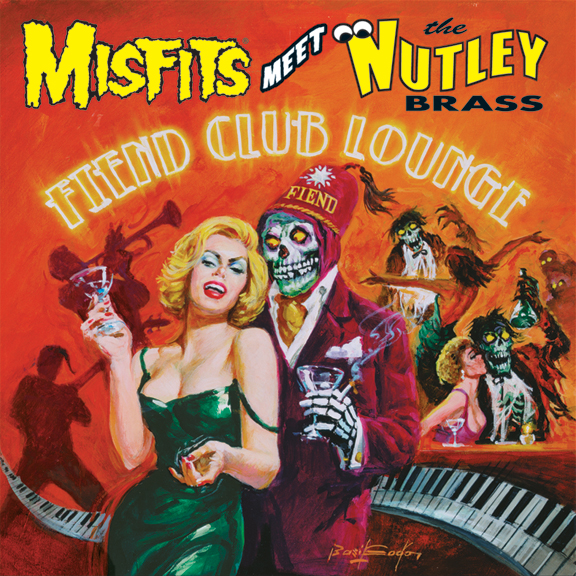 MISFITS MEET THE NUTLEY BRASS
FIEND CLUB LOUNGE
Buy Now:
Official Store
|
iTunes
|
Amazon
CD w/ Ltd Ed Drink Coaster (RCD 10805)
Digital Download
Track Listing
1. Last Caress
2. Astro Zombies
3. Where Eagles Dare
4. Some Kinda Hate
5. Hybrid Moments
6. Hatebreeders
7. Teenagers From Mars
8. Atitude
9. Angelf*ck
10. Skulls
11. Die, Die My Darling
Original Release Date: June 28, 2005 (from Misfits Records/Rykodisc)
Yes, Fiends, the ultimate and most unusal of all Misfits tributes is now available as the Misfits meet the Nutley Brass in the Fiend Club Lounge!
11 classic era Misfits favorites have been interpreted in the form of highly well-executed, instrumental, retro inspired "Space Age Pop" or "Lounge" style cover versions that will have horror-punks, lounge enthusiasts and fans of incredibly strange music going wild in the pit!
The 2005 CD included a free bonus collectible drink coaster (featuring the album artwork) inside the jewel case.
Preview This Release Row
(Flash required)
THE MISFITS AND THE NUTLEY BRASS INVITE YOU
TO THE "FIEND CLUB LOUNGE"
NEW YORK – The two unlikely worlds of punk rock and the martini-sipping lounge scene have collided as the Misfits Meet the Nutley Brass on a hip, swinging collection entitled "Fiend Club Lounge."
Officially endorsed by the Misfits and released via their Misfits Records label imprint, "Misfits Meet the Nutley Brass: Fiend Club Lounge" is a smooth ride through 11 Misfits classics, as performed by Sam Elwitt's Nutley, N.J., bred Nutley Brass.
"If Grandpa Munster had a band as a teenager it would have sounded like the Misfits Meet the Nutley Brass!" said Misfits founding member Jerry Only. "Fun for monsters of all ages."
Franché Coma, original guitarist for the Misfits, added: "'The Misfits meet the Nutley Brass: Fiend Club Lounge' is one of the best renditions of some of the best Misfits songs ever recorded. Any true, and I mean true, musician will appreciate the intricacies of the instrumentations on this CD. It takes punk music to a different level. It shows us how anything is possible if you want to make it happen."
The lounge-core tribute to the legendary horror-punk band was envisioned by the project's Producer, John Cafiero, who had been directing a Ramones DVD and was in touch with Elwitt for use of some of his music from "The Ramones Songbook as Played by the Nutley Brass." Cafiero had discovered the Nutley Brass back in 1995 and after contacting Elwitt about the Ramones DVD, the concept of "Fiend Club Lounge" began to develop.
"Even legendary composers of the genre like Gert Wilden, Esquivel and the Jaguar God himself, Les Baxter would be proud of these Misfits classics, served with a twist and scientifically proven to soothe your road rage," said Cafiero.
"It's supposed to be fun and funny," Elwitt said. "It's not supposed to replace or improve on Misfits recordings in any sense. It's supposed to complement them. Think of it as just another way to enhance your overall Misfits experience."
"Fiend Club Lounge" features all new paintings created exclusively for the release by legendary "Famous Monsters of Filmland" magazine cover artist Basil Gogos, plus an eight-page booklet and extensive liner notes. First pressing copies include a Limited Edition Fiend Club Lounge drink coaster perfect for resting a cocktail while enjoying the smooth sounds.